Hello everyone , I am very happy to announce the really of my FIRST clockface, witch is Lama watch. Why Lama watch? Because the wallpaper contains a picture of Lama off course!
This colckface is simple, efficient and without complex design. as i sadi earlier you have a simple picture with all the informations the watch record. in a quick you will see:
Heart Beat
Step counter
Calorie counter
State of charge of the battery
Tha clockface is totally free. I used the same frame for many incoming clockface: i won't say more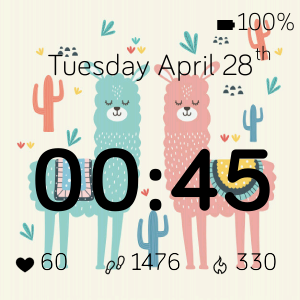 You can download the clockface here.