Hello everyone. after 6 months of development for Fitbit it is time for a stement with number and understanding, that is to say: HIGHLIGHTS. Let's go !
200000
According to my homemade statistics management I overpassed more than 200000 downloads in 6 months! there is no secret, i made several free clockfaces . They lead around 80% of downloads. But I will tell you later 😉
2 apps, 44 available clockfaces.
Yes. all off that ! But first if all, all those products are at least both in English, Spanish and French. There was one interesting thing I notice is: providing my products in that 3 languages was enough to be downloaded. Some people wouls say: »OK it is easy to release so many clockface by just chaging the background image and moving x or y position of data ». Yes you are maybe right. So why don't you do it?
5/2
5 devices supported with 2 different softwares. And it was a desert cross. It i still impossible to upload at the same time a software for Versa 3/Sense and preivous device. So porting an existing device was messy. Thus, as I wasn't the only person that wanted to port ones clockfaces…. 6 weeks befor approvals. From my point it has to be improved. For example proving SDK before the launch to let developer get ready ones the devices are released and not AFTER. For me Fitbit needs to improve this. I used to work for Windows and it worked like that.
Versa 2: my first client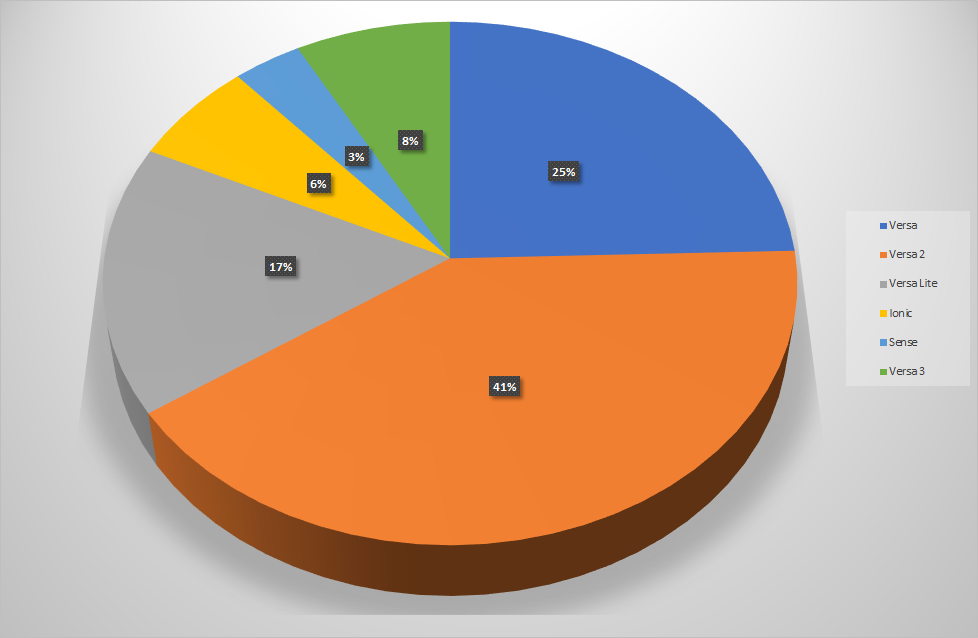 more than 40% customer owns a Versa 2 which was the newest device before Versa3/Sense.But what we can see is Versa3 traffic and Sense is already 10%. So that confirms I could have more If I was ready earlier…
Ranking
Now let's talk about the ranking. The Winner is……. CUSTOMIMG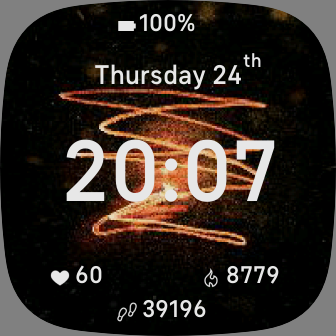 This my first most downloaded clockface. I am very proud of it beacause it is second clockface with permanent wallpaper update as feature. I am also proud because I built a partnership with Pexels® and you are proving that I did right with this investment. So thank you especially Laura from Pexels!
Second Position is: LAMA WATCH !!!!!!!!!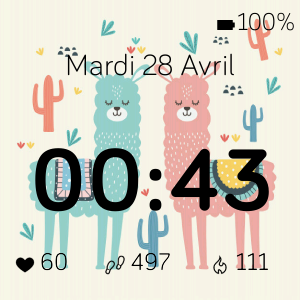 Clockface made for my wife that has a Versa 2 and loves lama! The clock is funny, the lama are funny and gives happineess to your watch.
Third Position is…….. BING WATCH !!!!!!!!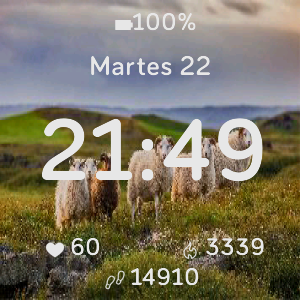 Same core model as Pexels expect you cannot choose a theme. the app display Bing wallpaper that you can have on your Windows laptop/tablet. Thank you Bing for the partnership!
Here is the final ranking
| | |
| --- | --- |
| 1 | CustomImg |
| 2 | lama watch |
| 3 | bing watch |
| 4 | girly watch |
| 5 | just a watch |
| 6 | calculated distance |
| 7 | tropical watch |
| 8 | orchid watch |
| 9 | lotus watch 2 |
| 10 | feather watch |
Here my highlight. If you have questions or remark regarding those topics or another oe, please, let me know !